The Lord Of The Rings The Battle For Middle-Earth Anthology PC DVD 3 games! BOX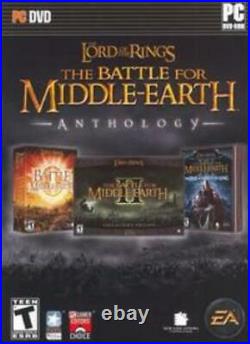 Lord of the Rings: The Battle for Middle-earth Anthology features three previously released titles in one bundle. Gamers may explore Middle-earth in The Lord of the Rings: The Battle for Middle-earth, The Lord of the Rings: The Battle for Middle-earth II Collector's Edition, and The Lord of the Rings: The Battle for Middle-earth II -- The Rise of the Witch-king. The Lord of the Rings: The Battle for Middle-earth Amid chaotic, constantly changing battles of swords and sorcery, players lead their forces in a desperate struggle to save Middle-earth. Built on EA's Command & Conquer: Generals engine, The Lord of the Rings: The Battle for Middle Earth is a real-time strategy game set in the world of the Peter Jackson trilogy, based on the novels by J.
It focuses on large-scale warfare instead of individual characters or the quest of the Fellowship, and is designed to re-create the epic battles featured in the three films. Familiar hero characters become available, however, and their powerful influences can turn the tide in a close battle. Four different factions are featured -- the riders of Rohan, the armies of Gondor, the forces of Saruman, and the legions of Sauron -- and each relies on a different type of resource to develop and replenish its forces.
The game includes two separate single-player campaigns; one has fans leading the forces of good against the orcs and goblins of Mordor, and the other allows them to guide the forces of evil to claim Middle-earth for their dark master. The Lord of the Rings: The Battle for Middle-earth II Collector's Edition.
This sequel to 2004's real-time strategy game from publisher Electronic Arts expands on the events depicted in New Line Cinema's film trilogy to incorporate scenes, characters, and battles found in J. Tolkien's epic fantasy saga. Fans will return to the besieged world of Middle-earth to actively participate in the War of the North, where dwarves and elves struggle to repel invasions in the Misty Mountains, Dol Guldur, Mirkwood, Rivendell, and other notable locales. Players will command one of six factions in a choice of game modes.
Men, dwarves, and elves are pitted against goblins and the dark forces of both Isenguard and Mordor, with each faction offering its own technology, powers, buildings, and units to master. Battle for Middle-earth II includes good and evil single-player campaigns, a turn-based War of the Ring mode that involves conquering territory on a dynamic world map, and skirmish options for players to select maps, opponents, and starting conditions. One distinguishing feature is that resource gathering is designed to be simple and self-sufficient, with the emphasis placed instead on battlefield tactics.
Building the equivalent of a farm not only generates wealth, but it also increases the number of available command points to spend on units. The catch is that each farm has an efficiency percentage that diminishes the closer it is to another farm. On offense, players can order battalions and individual units to fight in specific stances or to march in different formations. Units will also level up, learn new skills, and become stronger over time. On defense, players can protect their base by freely building walls, guard towers, and gates. Command points can also be spent on powerful heroes from the classic trilogy, such as Legolas, Gimli, and Boromir, or on custom warriors designed with the create-a-hero editor. Each hero can wield up to five character-specific powers to help him or her turn the tide in battle. In addition, all factions possess a series of racially derived powers to destroy, summon, or to provide bonuses. Each faction's 12 powers are divided among three talent trees, with lower branches accessible only after acquiring top-tier powers. After players suffer defeat or emerge victorious, a detailed timeline will show statistics for units, structures, resources, and other pertinent information.
Battle for Middle-earth II also includes built-in support for clans as well as a tournament ladder system for multiplayer competition. The collector's edition of The Lord of the Rings: The Battle for Middle-earth II features content enhancements on top of accoutrements designed to enhance one's appreciation of the creative aspects behind development.
A second DVD is bundled with the DVD-ROM version of the game, offering the entire 15-track musical score, high-resolution trailers and cinematics, and two featurettes that explore the making of the game as well as its distinctive artwork. The Lord of the Rings: The Battle for Middle-earth II -- The Rise of the Witch-king In a time before Frodo, Bilbo, and Gandalf, The Rise of the Witch-King turned the lands of Middle Earth into a bloody battlefield. Years after the defeat of Sauron by the hand of Isildur, the Dark Lord called the Witch-King forth to begin building a kingdom worthy of his presence by conquering occupied territories. This expansion for Lord of the Rings: The Battle for Middle-Earth II leads single players in a campaign for evil against the Nation of Men.
Instead of navigating Aragorn, Gimli, and Legolas to victory, gamers will lead an additional race of trolls called the Angmar through a variety of missions and objectives to ultimately conquer and control all of Middle Earth. The Angmar come with two types of trolls -- hill and snow trolls -- and a variety of units including dire wolves, Black Numenoreans, and the Dark Dunedain. To keep each army equal, several additional units are added to the existing races, and to encourage the use of artillery units, buildings are much harder to destroy with infantry alone. "War of the Ring" mode puts players against an opponent in a quest to conquer the enemy and their domain. By altering the gameplay from real-time to turn-based, players can create large armies in a shorter amount of time. Heroes can now be cornered and killed instead of captured and warped safely to their stronghold. Gamers begin with designated territories and must defend those areas while attempting to overtake more turf. For Windows [Please review compatibility/platform sections].
ITEM IS: USED - DVD IN BOX; INCLUDES SERIAL/KEY. UNLESS specifically stated above and/or in the title. If more than just the media is included, it will state which items are ie.
If available, we will also send the front and/or back CD inserts if in stock. If these are important to you, please message us to verify we have them available to send. Please do not assume items are included other than what's stated. Again, ask questions PRIOR to purchasing if you have any concerns. IMAGES: All images/pictures are stock photos and are for reference only, mainly to show the type of game you will be getting.
Please read "WHAT YOU GET" for what is included with the media. Screenshots may vary based on your own computer system, video card, monitor, etc. COMPATIBILITY: Computers are like people, each one is different. Unlike console games, a computer game may install and work flawlessly on one system but may need adjustments on another. This is due to a variety of factors, mainly the OS platform running, video card you have, drivers, protection software installed, etc.
Many times manufacturers release updates to games to fix bugs and add enhancements. We suggest going to Google and searching for the name of the game along with the words "system requirements" to determine if your system is suitable. Ultimately, we are not responsible for software compatibility problems or publisher's errors. This is a generic statement and specific platform versions ie.
Games that came out PRIOR to XP or higher will not specifically state they will work on that release, but only because they came out before those versions were made. Many, if not most, will work on XP or higher with a few quick adjustments. If we find out that an item will definately not work on a specific version, we will state it. For DOS games, you may need to play it with a free DOSbox program if the Program Compatibility Wizard does not work.
64-Bit Windows OS Systems: For 64-bit Operating Systems, older games most likely will NOT work due to 64-bit systems not being able to run 16-bit programming code (most games prior to 2000). For DOS games, you may need to play it with a free DOSbox program.
Macintosh Systems: For Macintosh programs, most older games will need to be run in Classic Environment if you have a MAC OS X 10.0 - 10.4 version. Please research Google on how to do this, or send us a message for information prior to purchasing.
If your MAC OS system doesn't support Classic Environment ie. MAC OS X 10.5 or Higher OR Intel Macs, you will have to try running it using the free program called SheepShaver, but compatibility is not ensured. Please research prior to purchasing or ask questions. MEDIA FORMAT: Please verify you have the required hardware in order to use the specified media ie. CD, DVD, floppy drives, etc.
If the item comes as a floppy disc, make sure you have either the needed 3.5" floppy drive or the bigger and older 5.25" floppy drive. Ask questions PRIOR to purchasing an order to avoid any confusion. Be patient if there are problems during installation or gameplay. Typically someone else has already ran into that problem and has listed a solution online. Please message us prior to leaving negative or neutral feedback in order for us to help solve your problem.
This item is in the category "Computers/Tablets & Networking\Software\Other Computer Software". The seller is "kidsware08" and is located in this country: US.
This item can be shipped to United States, Canada, United Kingdom, Denmark, Romania, Slovakia, Bulgaria, Czech Republic, Finland, Hungary, Latvia, Lithuania, Malta, Estonia, Australia, Greece, Portugal, Cyprus, Slovenia, Japan, Sweden, Korea, South, Taiwan, Belgium, France, Ireland, Netherlands, Poland, Spain, Italy, Germany, Austria, Bahamas, Israel, Mexico, New Zealand, Singapore, Switzerland, Norway, Saudi Arabia, United Arab Emirates, Qatar, Kuwait, Bahrain, Croatia, Republic of, Malaysia, Antigua and Barbuda, Aruba, Belize, Dominica, Grenada, Saint Kitts-Nevis, Saint Lucia, Montserrat, Turks and Caicos Islands, Barbados, Bermuda, Brunei Darussalam, Bolivia, French Guiana, Guernsey, Gibraltar, Guadeloupe, Iceland, Jersey, Jordan, Cambodia, Cayman Islands, Liechtenstein, Sri Lanka, Luxembourg, Monaco, Macau, Martinique, Maldives, Oman, Pakistan, Paraguay, Reunion, Uruguay.
Brand: Unbranded
Type: DVD