The Lord Of The Rings Battle For Middle-Earth II 2 Rise Of The Witch-King BETA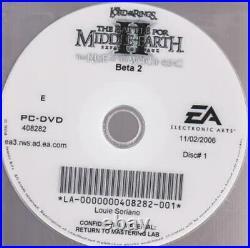 The Lord Of The Rings: The Battle For Middle-Earth: The Rise Of The Witch-King Beta 2 Release. This is a RARE beta release of the expansion of the popular RTS game. & The Lord Of The Rings: The Battle For Middle-Earth II.
ITEM IS: USED - DVD IN SLEEVE; INCLUDES SERIAL/KEY. UNLESS specifically stated above and/or in the title.
If more than just the media is included, it will state which items are ie. If available, we will also send the front and/or back CD inserts if in stock. If these are important to you, please message us to verify we have them available to send. Please do not assume items are included other than what's stated. Again, ask questions PRIOR to purchasing if you have any concerns.
IMAGES: All images/pictures are stock photos and are for reference only, mainly to show the type of game you will be getting. Please read "WHAT YOU GET" for what is included with the media.
Screenshots may vary based on your own computer system, video card, monitor, etc. COMPATIBILITY: Computers are like people, each one is different.
Unlike console games, a computer game may install and work flawlessly on one system but may need adjustments on another. This is due to a variety of factors, mainly the OS platform running, video card you have, drivers, protection software installed, etc. Many times manufacturers release updates to games to fix bugs and add enhancements.
We suggest going to Google and searching for the name of the game along with the words "system requirements" to determine if your system is suitable. Ultimately, we are not responsible for software compatibility problems or publisher's errors. This is a generic statement and specific platform versions ie. Games that came out PRIOR to XP or higher will not specifically state they will work on that release, but only because they came out before those versions were made. Many, if not most, will work on XP or higher with a few quick adjustments. If we find out that an item will definately not work on a specific version, we will state it.
For DOS games, you may need to play it with a free DOSbox program if the Program Compatibility Wizard does not work. 64-Bit Windows OS Systems: For 64-bit Operating Systems, older games most likely will NOT work due to 64-bit systems not being able to run 16-bit programming code (most games prior to 2000).
For DOS games, you may need to play it with a free DOSbox program. Macintosh Systems: For Macintosh programs, most older games will need to be run in Classic Environment if you have a MAC OS X 10.0 - 10.4 version. Please research Google on how to do this, or send us a message for information prior to purchasing. If your MAC OS system doesn't support Classic Environment ie. MAC OS X 10.5 or Higher OR Intel Macs, you will have to try running it using the free program called SheepShaver, but compatibility is not ensured.
Please research prior to purchasing or ask questions. MEDIA FORMAT: Please verify you have the required hardware in order to use the specified media ie. CD, DVD, floppy drives, etc. If the item comes as a floppy disc, make sure you have either the needed 3.5" floppy drive or the bigger and older 5.25" floppy drive.
Ask questions PRIOR to purchasing an order to avoid any confusion. Be patient if there are problems during installation or gameplay.
Typically someone else has already ran into that problem and has listed a solution online. Please message us prior to leaving negative or neutral feedback in order for us to help solve your problem. This item is in the category "Computers/Tablets & Networking\Software\Other Computer Software". The seller is "kidsware08" and is located in this country: US.
This item can be shipped worldwide.
Brand: Unbranded
Type: DVD