Middle EarthThe Wizards CCG set 344/484 ICE unltd. Lord of the Rings LOTR lot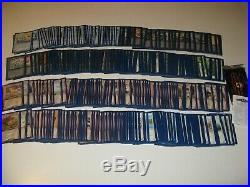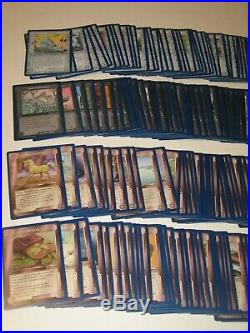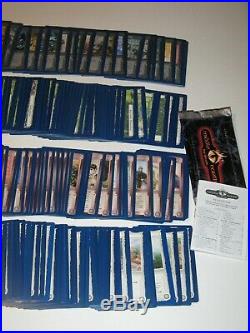 This is a large set of the 1996 unlimited (blue border) edition of Iron Crown Enterprises' Middle Earth: The Wizards trading card game. 344 of the 484 cards are included here (one of each). The missing cards NOT INCLUDED are. W1 Adrazar; W5 Aragorn II; W7 Arwen; W11 Beorn; W12 Beregond; W16 Bilbo; W20 Celeborn; W21 Cirdan; W22 Dain II; W24 Denethor II; W27 Elladan; W28 Elrohir; W29 Elrond; W33 Faramir; W36 Frodo; W37 Galadriel; W38 Galva; W43 Gimli; W45 Glorfindel II; W47 Haldalam; W60 Peath; W66 Theoden; W67 Thorin II; W70 Vygavril; W73 Adunaphel; W74 Agburanar; W75 Akhorahil; W77 Assassin; W85 Daelomin; W86 Dwar of Waw; W87 Fell Turtle; W93 Hoarmurath of Dir; W95 Indur Dawndeath; W96 Khamul the Easterling; W97 Leucaruth; W98 Mouth of Sauron; W99 Mumak(Oliphant). W110 Pukel-Men; W111 Ren the Unclean; W112 Rogrog; W113 Shelob; W114 Silent Watcher; W117 The Great Goblin; W118 Thief; W120 Uvatha the Horseman; W124 Witch-King of Angmar; W131 Balance of Things; W132 Balrog of Moria; W133 Bane of the Ithil-Stone; W143 Eye of Sauron; W144 Fell Beast; W150 Lost at Sea; W152 Lost in Dark-Domains; W162 Morgul Night; W163 Morgul-Horse; W164 Morgul-Knife; W166 Nazgul are Abroad; W169 The Pale Sword; W174 Siege; W175 Snowstorm; W176 Storms of Osse; W178 Traitor; W182 Will of Sauron; W183 The Will of the Ring; W184 Words of Power and Terror.
W303 Paths of the Dead; W309 Return of the King; W312 Sacrifice of Form; W313 Secret Entrance; W317 Stone of Erech; W323 True Fana; W326 Vilya; W328 White Tree; W329 Wizard's Fire; W334 Wizard's Voice; W335 Army of the Dead; W336 Beornings; W338 Dunlendings; W339 Easterlings; W344 Iron Hill Dwarves; W348 Men of Anorien; W353 Rangers of Ithilien; W354 Rangers of the North; W355 Riders of Rohan; W356 Southrons; W358 Tower Guard of Minas Tirith; W359 Variags of Khand; W362 Woses of Old Pukel-Land; W364 The Arkenstone; W370 Dwarven Ring of Bavor's Tribe; W371 Dwarven Ring of Barin's Tribe; W372 Dwarven Ring of Druin's Tribe; W374 Dwarven Ring of Dwalin's Tribe; W394 The Mithril-Coat; W397 The One Ring; W398 Palantir of Amon Sul; W399 Palantir of Annuminas. W415 Wizard's Ring; W419 Barad Dur; W421 Beorn's House; W423 Bree; W425 Carn Dum; W427 Cirith Ungol; W432 Dol Guldur; W434 Dunharrow; W435 Dunnish Clan-Hold; W437 Easterling Camp; W439 Edoras; W445 Henneth Annun; W448 Iron Hill Dwarf-Hold; W450 Isles of the Dead That Live; W457 Minas Morgul; W458 Minas Tirith; W461 Mount Gram; W470 Shelob's Lair; W472 Southron Oasis; W473 Stone-Circle; W474 The Stones; W476 Tolfalas; W477 Vale of Erech; W478 Variag Camp.
All cards other than those listed above are included in this lot. These are all near mint - unused, just collected. So please check my other listings; I have Dragons and Dark Minions expansion cards available as well. The item "Middle EarthThe Wizards CCG set 344/484 ICE unltd.
Lord of the Rings LOTR lot" is in sale since Monday, May 18, 2020. This item is in the category "Toys & Hobbies\Collectible Card Games\CCG Mixed Card Lots". The seller is "jortaggio" and is located in South Bend, Indiana. This item can be shipped worldwide.