Middle Earth Strategy Battle Game Smaug GW Resin NIB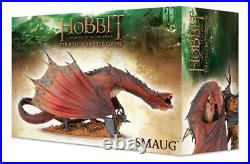 Smaug is a Fire-drake hailing from the mountains far to the north, and it is doubtless that he is the largest and most powerful of his kind left in Middle-earth. His greed led him to covet the great wealth of Erebor for himself, and so he took wing, caring not that in order to claim his prize he had to assail the greatest kingdom of Durin's folk. So were Erebor and the neighbouring Dale, City of Men laid to ruin, and the survivors forced to flee their ancestral homes.
Smaug is built upon a stunningly detailed scenic base that depicts the vast treasures of Erebor. The Arkenstone and The One Ring can both clearly be seen amongst the gems and gold as Smaug looms over the would-be burglar Bilbo Baggins. This magnificent 42 piece miniature is hand cast using the highest quality resin and the most advanced techniques to produce a model with extremely fine detail. Every scale, horn and battle-scar has been expertly reproduced to create a beatifically authentic collectors piece. Weighing in at 2.4kgs, the height of the miniature from the bottom of the base to the tip of Smaug's wing is 8.4 inches (or 21.4 cm). The base is 9.2 inches (or 23.1 cm) long and 5.4 inches (or 13.3 cm) wide. Please note: This miniature is not recommended for children under the age of 14. Advanced modelling skills are required. It is supplied unpainted and requires assembly - we recommend using Citadel Super Glue and Citadel Paints. Some preparation and cleaning will be required prior to painting. Small areas of flash and mould lines will need to be filed or sanded, and larger casting gates will need to be removed before construction.