Middle-earth Limited Collectors Edition Hobbit Lord of the Rings Blu-ray DVD Set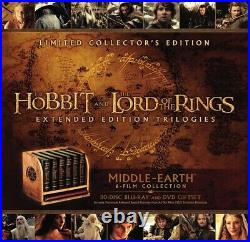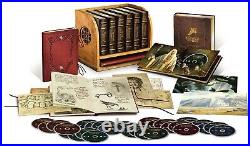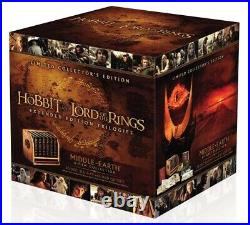 Welcome you to our store. Middle-earth Limited Collectors Edition Hobbit & Lord of the Rings Extended Edition Trilogy (Blu-ray + DVD). PLEASE NOTE: Region is USA Blu-Ray A. You will need a Region Free Player to view these! Middle-earth Limited Collectors Edition (AMAZON/6-pack/BD) (BD) For the first time ever, Academy Award-winning director Peter Jacksons epic adventure is available in one spectacular limited collectors edition box set. The Limited Collectors Edition includes 30 discs featuring all six Middle-earth films in their extended edition forms, housed in six stunning faux leather books and a collectible Hobbit-style wood shelf. The one-of-a-kind wood shelf is crafted from solid wood with the design selected by Peter Jackson. In addition to the extended edition release of every film, the collection also includes all previously released bonus content from both the theatrical and extended editions. Exclusive premiums designed for the collection include: Spectacular 100-page sketch-style book with replica The Red Book of Westmarch, filled with original film sketches and new artwork Original reproductions of exquisite watercolor paintings by acclaimed conceptual artists Alan Lee and John Howe, framable and wall-ready THE HOBBIT: AN UNEXPECTED JOURNEY Follow Bilbo Baggins, who along with the Wizard Gandalf and 13 Dwarves, led by Thorin Oakenshield is swept into an epic and treacherous quest to reclaim the lost Dwarf Kingdom of Erebor. THE HOBBIT: THE DESOLATION OF SMAUG Our heroes escape the giant Spiders and Wood-elves of Mirkwood before encountering the mysterious Bard, who smuggles them into Lake-town. Finally reaching the Lonely Mountain, they confront the Dragon Smaug. THE HOBBIT: THE BATTLE OF THE FIVE ARMIES The Dwarves of Erebor have reclaimed their homeland, but face the consequences of unleashing Smaug.
As five great armies go to war, Bilbo fights for his life, and the races of Dwarves, Elves and Men must unite or be destroyed. THE LORD OF THE RINGS: THE FELLOWSHIP OF THE RING With the help of a courageous fellowship of friends and allies, Frodo Baggins embarks on a perilous mission to destroy the legendary One Ring. THE LORD OF THE RINGS: THE TWO TOWERS In the middle chapter of this historic movie trilogy, the Fellowship is broken but its quest to destroy the One Ring continues. THE LORD OF THE RINGS: THE RETURN OF THE KING The final battle for Middle-earth begins.
Frodo and Sam, led by Gollum, continue their dangerous mission toward the fires of Mount Doom in order to destroy the One Ring. Please note Australia Post are currently experiencing considerable delays. The item "Middle-earth Limited Collectors Edition Hobbit Lord of the Rings Blu-ray DVD Set" is in sale since Wednesday, October 28, 2020. This item is in the category "Movies\DVDs & Blu-ray Discs".
The seller is "vintagemissy" and is located in Chirnside Park. This item can be shipped worldwide.
Director: Peter Jackson
Season: Complete Series Box Set
Format: Blu-ray Disc
Language: English
Movie/TV Title: The Lord of the Rings
Region Code: Blu-ray: A (Americas, Southeast Asia...)
Edition: Box Set