Middle Earth Collection Hobbit & Lord of the Rings Trilogy Blu-Ray EXTENDED ED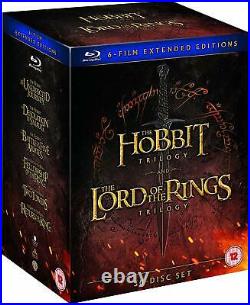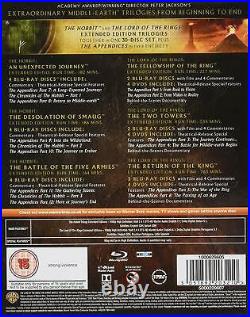 Middle Earth Collection (The Hobbit and Lord of the Rings Trilogies). SIX-MOVIE SET CONTAINING THE EXTENDED VERSION OF EACH FILM.
Assisted by a fellowship of heroes, Frodo Baggins plunges into a perilous trek to take the mystical One Ring to Mount Doom so it and its magical power can be destroyed and never possessed by evil Lord Sauron. The astonishing journey begins in the first film of director/cowriter Peter Jacksons epic trilogy that redefined fantasy filmmaking. This imaginative foray into J. Tolkiens Middle-earth won four Academy Awards and earned 13 total nominations, including Best Picture.
Frodo and Samwise press on toward Mordor. Gollum insists on being the guide. Can anyone so corrupted by the ring be trusted? Can Frodo, increasingly under the sway of the ring, even trust himself? Meanwhile, Aragorn, drawing closer to his kingly destiny, rallies forces of good for the battles that must come. Director Peter Jackson delivers an amazing second movie that won two Academy Awards and earned six total nominations, including Best Picture.
So do the astonishing spectacle and splendor. For Frodo to overcome the wickedness of Gollum, the horrifying attack of colossal arachnid Shelob and the soul-twisting allure of a ring that resists destruction. For Aragorn to take up the sword of his forebears and the crown of his birthright. For the mighty clash that Wizard Gandalf calls the great battle of our time. And for the inspired culmination of the films based on J.
For the third time, a Rings movie was a Best Picture Academy Award nominee, and for the first time it claimed that prize (plus 10 more). The King deserves its crown. Follow title character Bilbo Baggins, who along with the Wizard Gandalf and 13 Dwarves, led by Thorin Oakenshield is swept into an epic quest to reclaim the lost Dwarf Kingdom of Erebor from the fearsome Dragon Smaug.
Their journey will take them into the Wild and through treacherous lands inhabited by Goblins, Orcs and deadly Wargs, as well as by a mysterious and sinister figure known only as the Necromancer. Along the path, the unassuming Bilbo Baggins not only discovers depths of ingenuity and courage that surprise even himself, he also gains possession of a precious ring tied to the fate of all Middle-earth in ways he cannot begin to imagine. THE HOBBIT BILBO BAGGINS, the Wizard Gandalf and 13 Dwarves, led by Thorin Oakenshield, continue their journey to reclaim the Dwarf Kingdom of Erebor. Along the way, they encounter skin-changer Beorn; giant Spiders of Mirkwood; Wood-elves led by Legolas, Tauriel and King Thranduil; and a mysterious Man named Bard, who smuggles them into Lake-town. Finally reaching the Lonely Mountain, they face their greatest danger the Dragon Smaug.
BATTLE OF THE FIVE ARMIES. Thorin Oakensheild and the Dwarves of Erebor have reclaimed the vast wealth of their homeland, but now face the consequences of having unleashed the terrifying Dragon Smaug upon Lake-town. Meanwhile, Sauron, the Dark Lord, has sent forth legions of Orcs to attack the Lonely Mountain, and Bilbo Baggins finds himself fighting for his life as five great armies go to war. As darkness converges, the races of Dwarves, Elves and Men must decide unite or be destroyed. This item is an import from the United Kingdom (England).
The blu-ray discs are fully compatible with USA blu-ray players. Does it Include DVDs or Digital Copies? The set also includes 12 DVDs, however, these discs are coded Region 2 and are not compatible with USA players. All blu-ray discs are USA compatible.
The blu-ray discs are Region A/B/C compatible (also known as REGION FREE). This means it will play on any. However, the included DVDs are Region 2 compatible - which means that they will not play on USA players.
Audio (Hobbit Trilogy): English, Italian, Mandarin Audio (Lord of the Rings Trilogy): English, Brazilian Portuguese. Subtitles (Hobbit Trilogy): English SDH, Italian, Dutch, French, Simplified Chinese Subtitles (Lord of the Rings Trilogy): English SDH, Brazilian Portuguese, Latin Spanish. What If I Have An Issue? We are here to help you with any issues that you have. Simply use eBays item return functionality to request a return.
If you change your mind and don't want the item, you may return it if it is UNOPENED only. Simply use eBays item return functionality and follow the instructions on the screen. The item "Middle Earth Collection Hobbit & Lord of the Rings Trilogy Blu-Ray EXTENDED ED" is in sale since Friday, October 11, 2019. This item is in the category "DVDs & Movies\DVDs & Blu-ray Discs". The seller is "valhallagroup" and is located in Flower Mound, Texas. This item can be shipped to United States, Canada, United Kingdom, Mexico, Germany, Japan, France, Australia, Denmark, Slovakia, Czech republic, Finland, Hungary, Malta, Greece, Portugal, Sweden, South africa, Belgium, Hong Kong, Ireland, Netherlands, Poland, Spain, Italy, Austria, Israel, New Zealand, Switzerland, Norway, Chile, Bermuda, Guernsey, Gibraltar, Iceland, Jersey, Liechtenstein, Luxembourg, Monaco.
Movie/TV Title: The Lord of the Rings / The Hobbit
Region Code: Blu-ray: Region Free
Rating: PG-13
Edition: Box Set