MECCG Middle-Earth CCG Against the Shadows complete set 170 cards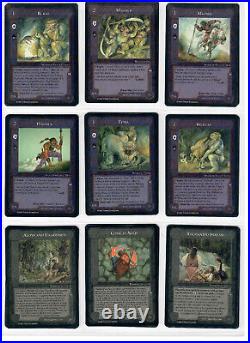 For sale: complete set of cards from the "Against the Shadows" expansion of the Iron Crown Enterprises game "Middle-Earth". The cards are in mint condition. The following 170 cards are included (first nine are pictured). Mauhúr Mîonid Perchen Tûma Wûluag Alone and Unadvised Come at Need Enchanted Stream Full of Froth and Rage Near to Hear a Whisper One Foe to Breed a War Power Built by Waiting Short Legs Are Slow Summons from Long Sleep Trouble on All Borders Will Shaken A Lie in Your Eyes Early Harvest Fealty Under Trial FEAR! Pilfer Anything Unwatched Return Beyond All Hope Ride Against the Enemy Slip Treacherously Turning Hope to Despair Unhappy Blows Alatar the Hunter Durin's Folk Dwarven Travelers Galadhrim Gandalf the White Rider Knights of the Prince Lady of the Golden Wood Lord of the Carrock Lord of the Haven Master of the House Pallando the Soul-keeper Radagast the Tamer Saruman the Wise Steward's Guard Stout Men of Gondor Trolls from the Mountains Black Horse Creature of an Older World Great Bats Great Lord ob Goblin-gate Regiment of Black Crows The Balrog Angmarim Asdriags Bairanax Roused Black Númenóreans Corsairs of Rhûn Daelomin Roused Eärcaraxë Roused Haradrim Itangast Roused Leucaruth Roused Morgul-orcs Nûriags Orcs of Dol Guldur Petty-dwarves Wain-easterlings Angmarim Haradrim Nûrniags Petty-dwarves Wain-easterlings Woses of the Eryn Vorn Goblin Earth-plumb Old Treasure Records Unread Secret Book Thrall-ring Thrór's Map Troth-ring Jewel of Beleriand Usriev of Treachery Bow of the Galadhrim Thong of Fire Ancient Black Axe Dwarven Ring of Thélor's Tribe Dwarven Ring of Thrár's Tribe Helm of Fear Iron Shield of Old Necklace of Girion The Ithil-stone Above the Abyss Dark Tryst Driven as by a Madness Eye Never Sleeping Far Below the Deepest Delvings Hail of Darts Hoard Well-searched Hounds of Sauron Join With That Power Legendary Stair Our Own Wolves Riven Gate Steeds The Ash Mountain Deeps The Dark Power The Misty Mountain Deeps The Mountains of Shadow Deeps The Tormented Earth The Undeeps of Anduin The White Mountain Cavern-ways World Gnawed by the Nameless All the Bells Ringing Biter and Beater!
This item is in the category "Toys & Hobbies\Collectible Card Games\CCG Mixed Card Lots". The seller is "masterlotr" and is located in this country: CA. This item can be shipped worldwide.
Game: Middle-earth CCG, The Lord of the Rings TCG