Lord Of The Rings Tales Of Middle Earth MTG Collector Sealed Booster Box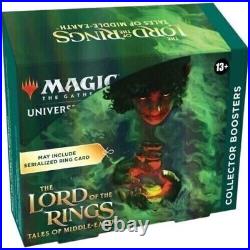 MAGIC MEETS THE LORD OF THE RINGS - Experience the beloved story of The Lord of the Rings through the gorgeous art and thrilling gameplay of the Magic: The Gathering collectible card game. JOIN THE FELLOWSHIP - Immerse yourself in Middle-earth with unique game mechanics and stunning art that draw you into this epic tale. BEST BOOSTERS FOR COLLECTORS - Collector Boosters are a shortcut to the coolest cards in a set, with packs full of Rare cards, shiny foil cards, and special alt-art, alt-frame cards. FIND THE PRECIOUS - Collector Boosters are the only boosters that may include Serialized Ring cards; in some packs you may find Serialized Elven, Dwarven, or Human Sol Ring cards, and only one English-language Collector Booster in the entire world will contain The One Ring (Serialized 1 of 1) card.
These cards have the same play mechanics as their non-serialized versions. FULL OF RARE CARDS & GORGEOUS FOILS - these boosters are full of hard-to-find cards, with 5-7 cards of rarity Rare or higher, a total of 8-10 cards with a shiny Traditional Foil treatment, and 1 possible Surge Foil card in every pack. CONTENTS - 12 The Lord of the Rings: Tales of Middle-earth Collector Boosters, with 15 MTG cards in each pack + 1 Traditional Foil Box Topper card.