Lord of the Rings MTG Collector Booster Box Tales of Middle Earth Fast Shipping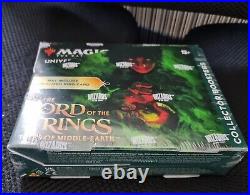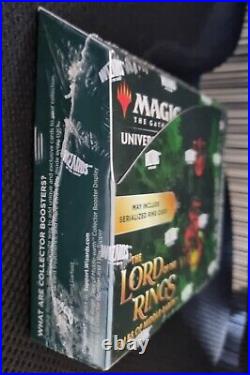 Lord of the Rings Magic the Gathering Collector Booster Box Tales of Middle Earth. MAGIC MEETS THE LORD OF THE RINGS-Experience the beloved story of The Lord of the Rings through the gorgeous art and thrilling gameplay of the Magic: The Gathering collectible card game.
JOIN THE FELLOWSHIP-Immerse yourself in Middle-earth with unique game mechanics and stunning art that draw you into this epic tale. BEST BOOSTERS FOR COLLECTORS-Collector Boosters are a shortcut to the coolest cards in a set, with packs full of Rare cards, shiny foil cards, and special alt-art, alt-frame cards. FIND THE PRECIOUS-Collector Boosters are the only boosters that may include Serialized Ring cards; in some packs you may find Serialized Elven, Dwarven, or Human Sol Ring cards, and only one English-language Collector Booster in the entire world will contain The One Ring (Serialized 1 of 1) card. These cards have the same play mechanics as their non-serialized versions.
CONTENTS-12 The Lord of the Rings: Tales of Middle-earth Collector Boosters, with 15 MTG cards in each pack + 1 Traditional Foil Box Topper card.