Lord Of The Rings Battle Of Pelennor Fields Middle Earth Strategy Battle Game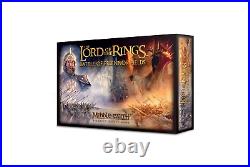 The Lord Of The Rings. As the sun begins to rise upon the fields of Pelennor, the great siege of Minas Tirith is all but lost Yet hope has not faded and help is close at hand. Through the crisp morning air, the sound of horns can be heard ringing out, signalling the arrival of King Théoden and the Riders of Rohan. With the hosts of Mordor arrayed in their thousands, Théoden gives an impassioned speech and leads his men into the fray, riding for ruin and the worlds ending!
Prepare to enter the amazing world of Middle-earth, and recreate the greatest battles and adventures from. The Lord of the Rings. In this box set, youll find all the miniatures no less than 84! And rules you and an opponent will need to defend the city of Minas Tirith or take command of the forces of Evil and wage destruction and war upon the kingdom of Gondor.
Théoden, King of Rohan on Foot and Horseback: this character is supplied as 2 models, 1 on foot and 1 mounted and charging. Both models feature options for a helmeted or unhelmeted head, and both are clad in heavy armour, and armed with his sword, Herugrim.
On foot, Théoden holds a shield; mounted, that shield is stowed. 12 Warriors of Rohan: foot-soldiers who make up the rank and file of the armies of Rohan. 4 models are armed with bows, 4 with hand weapons and shields, and 4 with spears and shields. 12 Riders of Rohan: horse-masters beyond compare, renowned for their great skill and bravery. 4 are armed with spear and shield, 4 with bows, 2 with swords and shields, and 2 with axes and shields.
20 Warriors of the Dead: restless spectral images of their former selves. 14 are armed with hand weapons, and 6 with spears.
The Witch-King of Angmar on Fell Beast: the greatest of the Nazgûl, and Saurons most deadly lieutenant, the Witch-King of Angmar carries a sword, wears the Crown of Morgul and attacks with the Fell Beasts teeth and claws. A Mordor Troll: spearheading attacks and breaking down fortress walls, this enormous creature wears heavy armour and is armed with a hand-and-a-half hammer. 36 Morannon Orcs: hailing from the Black Gate these are a stronger breed of Orc than those who man Saurons other bastions. They wear brutal-looking, thick armour 18 carry hand weapons and shields, and 18 carry spears and shields. This box contains the complete, unabridged 208-page hardback Middle-earth Strategy Battle Game Rules Manual, packed with essential rules, guides and information covering Open, Narrative and Matched Play with your Middle-earth miniatures.
Everything from the basic fundamentals of movement and combat through to fielding siege engines and casting magical powers is here, in an easy to follow format with annotated diagrams and photographs demonstrating the flow of battle. It even features beautifully-painted example armies, providing inspiration for your own collections. As well as this, theres a 16-page booklet this contains the scenarios and profiles youll use in conjunction with the Rules Manual to recreate the Battle of Pelennor Fields with the miniatures in this box. 4 Scenarios are included to play through Charge of the Rohirrim, Théodens Last Stand, The March of the Dead and The Battle of Pelennor Fields each of these in turn adds more and more miniatures from the box, increasing the scale of the battles as you play. A selection of gaming accessories are included, necessary for play. A 12 Rohan range ruler.
A 12 Mordor range ruler. A double-sided sheet of punch-out tokens, used in game to denote effects and statuses of models.
The item "LORD OF THE RINGS BATTLE OF PELENNOR FIELDS MIDDLE EARTH STRATEGY BATTLE GAME" is in sale since Saturday, November 28, 2020. This item is in the category "Toys & Hobbies\Games\Miniatures, War Games\Lord of the Rings". The seller is "paulsmith914" and is located in Florida, New York.
This item can be shipped worldwide.
MPN: 30-05-60
Character Family: Lord of the Rings
Brand: Games Workshop