IN HAND! MTG The Lord of the Rings Tales of Middle-earth Gift Bundle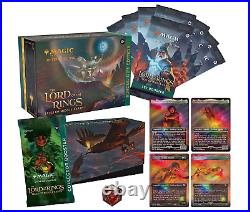 ONE GIFT TO RULE THEM ALL-The perfect present for Magic and The Lord of the Rings fans alike, this Gift Bundle is full of The Lord of the Rings-themed Magic cards and accessories, including a Collector Booster full of special, hard-to-find cards. MAGIC MEETS THE LORD OF THE RINGS-Experience the beloved story of The Lord of the Rings with the strategic gameplay of Magic: The Gathering, facing off against opponents in thrilling magical battles. A BOOSTER FULL OF RARES & ALT-ART CARDS-In addition to the usual Bundle goodies, this Gift Bundle includes a 15-card Collector Booster containing 5-7 cards of rarity Rare or higher, a total of 8-10 cards with a shiny Traditional Foil treatment, 1 possible Surge Foil card, and tons of special alt-art, alt-frame cards. FIND YOUR OWN RING OF POWER-The included Collector Booster may include Serialized Elven, Dwarven, or Human Sol Ring cards. These cards have the same play mechanics as their non-serialized versions. The Serialized 1 of 1 Ring was originally in an English Collector Booster but was found on June 30, 2023.
4 MOUNT DOOM SCENE CARDS-Every Gift Bundle includes 4 Traditional Foil cards with Borderless alt-art that combine to depict a full scene of the moment Gollum and The One Ring fall to their destruction in the fires of Mount Doom. CONTENTS-1 Collector Booster, 8 Set Boosters, 4 Traditional Foil Borderless Mount Doom Scene cards, 40 Land cards (20 foil, 20 nonfoil), 1 exclusive Spindown life counter, 1 foil card storage box, and 2 reference cards.