FFG LotR Middle-Earth Quest Fair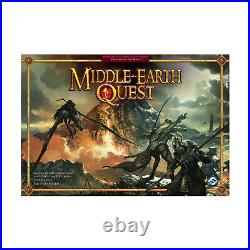 Board Games & Card Games. Product Description: It is a time of growing darkness and despair. From there, his evil and corruption has spread across the lands once more.
Alas, in the West, there is little strength left. The Elves have all but abandoned Middle-earth, and the blood of Númenór has run thin; that which remains now dwells in Minas Tirith, or with the lonely rangers that haunt the ruins and wild country of Arnor. Yet, there is still hope.
Gandalf the Grey has learned that the One Ring, the master-ring which Sauron desires and fears above all, is with the hobbit Frodo in the Shire. Heroes to aid Gandalf in his hunt for the creature Gollum, and in his quest for the lost knowledge of Isildur's Bane. Heroes, whose strong arms guard the Shire from the enemy.
Heroes, who venture into the forests of Ithilien, or even into the Land of Shadow itself, there to disrupt the schemes of Sauron, wherever they may be found. Middle-earth Quest is set in the seventeen-year period between Bilbo's birthday party and the Ring's departure from the Shire, as described in J. Tolkien's novel The Lord of the Rings. One player takes the role of Sauron, who is attempting to dominate Middle-earth with his nefarious plots and evil minions.
Up to three other players take the roles of heroes who must hold the darkness at bay until Gandalf's plans have matured. To do so, the heroes must embark on dangerous quests and consult with the famous characters of Middle-earth to gain favor and knowledge. Will you play as Sauron and claim Middle-earth as your own? Or will you play as a hero and stand against the Dark Lord? The fate of Middle-earth rests in your hands!
1 Large Game Board (in two parts) 28.25" x 41" when put together. 5 Hero Sheets and 8 Plastic Stands Please review the condition and any condition notes for the exact condition of this item. All pictures are stock photos. The condition of the item you will receive is Fair/EX - rules VG+. Our grading system is listed below for your perusal.
All pictures are stock photos unless otherwise specified. Still in the original factory shrink wrap, with any condition visible through shrink noted. Means shrink wrapped in near-mint condition. Like new with only the slightest wear, many times indistinguishable from a Mint item.
Close to perfect, very collectible. Board & war games in this condition will show very little to no wear, and are considered to be "punched" unless the condition notes unpunched. Lightly used, but almost like new. May show very small spine creases or slight corner wear.
Absolutely no tears and no marks, a collectible condition. May have medium-sized creases, corner dings, minor tears or scuff marks, small stains, etc.
Very well used, but complete and useable. May have flaws such as tears, pen marks or highlighting, large creases, stains, marks, a loose map, etc. Extremely well used and has major flaws, which may be too numerous to mention. Item is complete unless noted. Come unpainted and unassembled, unless specifically noted.
Assembly is required for most miniatures and model kits. Are listed as "code/code" where the first code represents the box, and the second code describes the contents. When only one condition is listed, then the box and contents are in the same condition. If a book is listed in the same fashion, the first code represents the cover, and the second code the interior. For example a boxed game listed as VG / NM indicates that the outer box is in Very Good Condition, while the contents are in Near Mint Condition. Indicates that an item is close to the next highest condition. Example, EX+ is an item between Excellent and Near Mint condition. A "-" (minus) sign indicates the opposite.
And/or missing components are noted separately. In most cases, boxed games and box sets do not come with dice.
Of miniature packs is not graded. If excessively worn, they will be marked as card worn. For SPI games and similar are not graded.
If excessively worn, they will be marked as tray worn. If it cannot be located within a week after this we will reship the order at NO charge to you. Is available on all orders, except for extremely light packages like single Magic cards. Is available for Express/DHL, limited or no tracking may be available for Priority, and 1st Class/ISAL. Attention: Buyers from France, Germany & Austria. Customers in these countries may be blocked from purchasing some historical items. The World's Largest Selection of Games. We're here to help you Complete Your Quest for new, rare, and out-of-print RPGs, Board Games, War Games, Magic & other CCGs, Miniatures, Collectibles, and more. We've been growing steadily as a trusted name in Games for decades. How do we do it? Noble Knight Games wants your pre-owned games! Let us put cash in your pocket for the games you're no longer playing.
We'll do the work of finding them loving new homes. Visit our website and select Sell /Trade for more information on our programs! Whether you're in Texas or Taiwan, we know how to package your order so it arrives safely with no damage. Check out our other auctions and the links to the left for one of the world's largest selection of games including RPG's, Board & Wargames, Miniatures, Magic and other CCG's, Dice, Supplies and much more!
Noble Knight Games stands behind all the products we sell. We take care to note any special item conditions with pre-owned products, so you always know what to expect. FFG Boardgame DungeonQuest (1st Ed) VG+. FFG Tannhauser Reich Troop Pack New.
FFG Board Game Ingenious (2nd Ed) EX. We specialize in new and out-of-print RPG's, Board Games, War Games, CCG's/Magic, Miniatures and all things game-related. This listing is currently undergoing maintenance, we apologise for any inconvenience caused. This item is in the category "Toys & Hobbies\Games\Board & Traditional Games\Contemporary Manufacture". The seller is "nobleknightgames" and is located in this country: US.
This item can be shipped worldwide.
Brand: Fantasy Flight Games
Game Type: Strategy and war games
Type: Boxed Game
Min. Number of Players: 2
Recommended Age Range: 13+
MPN: FFGLTR11